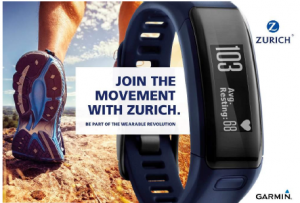 Health and fitness is a hot topic at the moment and many people now spend a significant portion of their leisure time involved in sporting pursuits. In recognition of this increased interest in all things fitness related Zurich Life Assurance have recently introduced a special offer which will help you to monitor your progress whilst also saving you money.
Zurich Life Assurance are currently offering new customers a free Garmin Vivosmart 3 Fitness Watch if you take out a new Guaranteed Term Protection Policy with a minimum monthly premium of €25 per month and agree to remain active with Zurich. Not only will new customers receive a free Garmin watch, you will also enjoy a 10% premium discount on your protection policy for the full term of the policy. Furthermore, subject to complying with the terms and conditions Zurich will give cash back of four months premia and at the end of year 2 they will give further cashback of 2 months premia.This is a limited offer and some terms and conditions apply. If you are interested please give Eoghan a call on 086 606 5008, by using the contact form below or by email to eoghan@obn.ie.
Comments in this blog are general in nature and should not be taken as financial advice as no assessment has been undertaken in relation to your financial situation or objectives.