We're running a competition on Twitter and Facebook for the month of July. Each Retweet and Follow (Twitter) or Like and Share (Facebook) of a post which links to this blog post during July enters the account holder into a draw to win dinner for two in Viewmount House in Longford to the value of €150.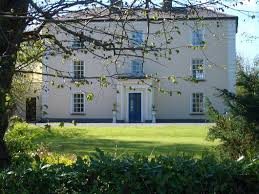 VM Restaurant Converted stables with exposed stonework make a fine restaurant of character which overlooks a Japanese garden with water features, and has an abundance of candles giving a cosy atmosphere at night. Whether entering from the car park or the house itself, guests arrive in a 'new' bar and restaurant reception area with a fire, where Beryl explains the menu while you enjoy a pre-dinner drink.
 4-course dinner menus begin with an interesting cover note giving the history of the house, and Chef Gary O'Hanlon' offers about half a dozen dishes on each course, with a slight leaning towards poultry (duck, guinea fowl, free range chicken) and two imaginative vegetarian main courses; as befits the surroundings, the tone is special occasion – the restaurant is beautifully set up with white linen, elegant white crockery and different flowers on each table, making a lovely setting for well presented food.
All the little niceties are observed, beginning with a complimentary amuse bouche (hoi sin duck in choux pastry, perhaps) before starters, which may include a particularly tasty dish of pan roasted quail with bacon, cabbage & foie gras, served with a fresh berry jus.
Main courses include the mandatory steak of course (rib eye with colcannon, straw potatoes & green peppercorn Courvoisier sauce, for example) and there may be a special fish dish such as pan seared artic char, which is served on marquis potato croquette with fried shitake & a watercress salad.
Ingredients are sourced locally where possible and a few specialist products are mentioned, eg Boilié goats cheese and arctic char (farmed in Co Sligo), although it would be interesting to see more information on local produce.
Rather glamorous desserts might include brulée three ways (ginger & vanilla bean, Valrhona chocolate and berry, served with a tuile disc) and coffee comes with petits fours.
Overall a meal here is a delightful experience, enhanced by attentive service and, especially, Beryl Kearney's caring interaction with guests.
Georgina Campbell's Guide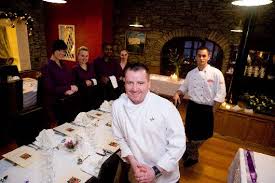 Viewmount House is in my top three favourite restaurants in Ireland. Even if the winner is from Cork, New York, Dundalk, Gortahork or Glenamaddy I recommend making the trip as this is a culinary experience fit for a king.
The draw will take place on Monday 10 August 2015 and the winner will be announced on our Twitter and Facebook pages.
Good Luck!